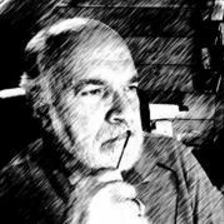 Every family seems to have a favorite gathering spot … in our case it was my Aunt Anna's place.  When I was around 12, somewhere between the meat loaf at the kiddie table and the phonograph in the living room, my cousin who was a worldly 14 introduced me to jazz. I'll never forget the first three records he played for me:  April in Paris by Count Basie, Cherokee by Charlie Barnett and Intermission Riff by Stan Kenton. That did it. I was hooked for life!
In the years that followed I sort of played at organ, noodled around with piano and traded a musician friend a few years of photography expertise for a batch of baritone sax lessons … but it turned out that my true calling was to talk about music rather than create it. Ironically, throughout a long and successful radio career stretching from New York to Philly and back again, I played just about every kind of music except for jazz … until I lucked into a part-time gig at a 'pop rock' station not long before retiring from broadcasting. Somehow I talked them into giving me a Saturday night show from 10PM until midnight … I even got to bring my own music, which was something really special in this age of computers and automation! My watchword was melodic … I don't like excesses of beeps and boops, squeaks and squawks, or any note that is 'conjugated' more than 5 times in a row.
"After Hours" quickly became the most popular program on the station and during the year or so that we plied the airwaves, I was privileged to interview the likes of Mercer Ellington, Joe Pass, Tony Bennett, Nancy Wilson, Billy Taylor, Illinois Jacquet, George Shearing, Dakota Staton and a whole host of other lifetime jazz favorites! I recently found several old tapes of these interviews and anticipate posting them here on the website, if they'll still play without disintegrating. Perhaps the most fun of all was introducing some new people to genuine jazz, instead of the watered down 'death by saxophone' pablum that conveniently appropriated the name.
Today, I find myself living in a log home on a country hillside in the northeastern U.S. with an incredible bride, a big brown Labrador, a small spotted mixed breed, and several finned and feathered creatures.  It's true.  You don't have to take a goldfish for a walk.
Through the years, one of the constants for me has always been jazz and the people who make it.  I often wonder who that 'old coot' is looking out at me from the mirror, and just noticed I'm able to distill a large portion of my life down to a paltry 5 paragraphs.  Well, the microphone is on the shelf and the records have become CDs, but it just feels like it's time to start sharing the music again.  I most sincerely hope that you'll enjoy these sights and sounds as much as I enjoy providing them for you.
Thanks for stopping by!